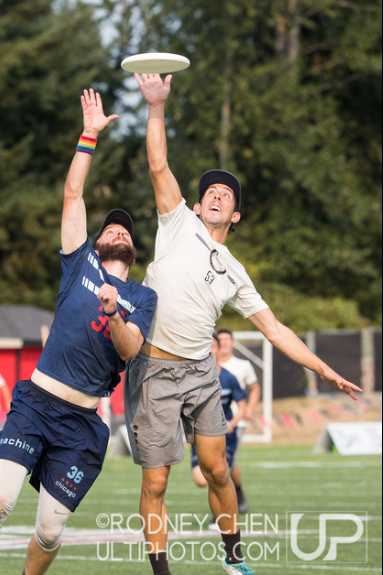 ---
Biography
---
Number: 53
Age: 31
Date of birth: 7/7/1987
Place of birth: Eugene, OR
Height: 5'10"
College team(s): University of Oregon- Ego (06-07, 08-10); University of Colorado- Mamabird (05-06)
Current city of residence: Los Angeles
Occupation: Consultant
---
Ultimate
---
Previous club team(s):
Rhino
Accolades:
'06 – Southwest Region FOTY (Mamabird)
'06 – WJUC Champion
'09-'10 – Northwest All-Region (EGO)
'10 – Callahan Award Winner
'15 – WCBU Bronze
'17 – USAU Club Champion (Revolver)
How I came to join Revolver:
Mike Payne reached out to me in 2010 encouraging me to move from Oregon down to the Bay to play with Revolver. It sounded great, and has since then, but until 2017 I hadn't been able to commit.
Very glad I did, and I have to give a lot of credit to Tommy Doi on this one for hauling me through this commute.
Favorite game or tournament moment on Revolver:
Revolver moments I remember:
1) The best throw I've ever thrown was an I/O forehand huck to Nick Stuart in the Finals of the Pro Flight Finale in 2017.
2) Throwing the game-winner, backhand huck to CJ, against Truck in the Finals of the Pro-Elite Challenge (Colorado Cup) 2017.
3) Hammer to Cassidy to end a windy, 11-turn (?) point against Ring in Semis of USAU Nationals 2017. (I never throw hammers).
I think the lesson here is that I remember throws and must blackout during catches.
4) Playing "Left-Right-Left"… ask Russell, Ashlin, or Molica for an explanation.
Favorite game or tournament moment outside Revolver:
Potlatch (renamed Sunbreak) has been a staple of my Ultimate experience over the years–it's an awesome showcase and reunion of the Ultimate community.
Favorite ultimate player(s) in my formative years:
Breeze Strout introduced me to the game.
I looked up to guys like Chase Sparling-Beckly, Mike Grant, and Josh Ziperstein for their domination of the game, Lou Burruss for his defense and insane Ultimate IQ, and my early college mentors, Jolian Dahl and Adam Simon.
Also big shoutout to the "I Bleed Black" team at UCSB.
Favorite movie as a kid:
Land Before Time
Pre-game ritual:
I always have to pee before games. It's a combination of nerves and caffeination.
What I like to eat Saturday night of a tournament:
A second dinner.
If I didn't play Ultimate, my main pastime outside of work would be:
A healthy combination of climbing, hiking, rollerblading, and snorkeling.
Favorite sports team outside of Ultimate:
All Oregon sports – Blazers, Timbers, Thorns, Ducks…
Something unknown about me:
I have a twin brother, play the violin and mandolin, and I've spent a year at sea.