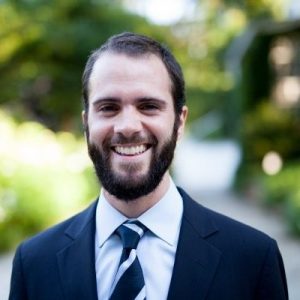 ---
Biography
---
Number: 10
Age: 29
Date of birth: 5/14/1989
Place of birth: Atlanta, GA
Height: 5'11"
College team(s): Carleton
Current city of residence: Oakland, CA
Occupation: Student
---
Ultimate
---
Previous club team(s):
Sub Zero, Chin Lighting [sic]
Accolades:
Successful follower of Lucas Dallmann
How I came to join Revolver:
See above. Connected with Lucas on LinkedIn (see below). Made a soft introduction. Set up coffee. Then pitched hard. 74 slide PowerPoint deck. Got invited to try out.
Favorite game or tournament moment on Revolver:
Nate White's fist thrust celebration of Marcelo Sanchez' layout D in semifinals of Club Nationals in 2017. Full body – watch the video – it starts with his footwork.
Favorite game or tournament moment outside Revolver:
Worlds in Poland 2017. I've never learned so much from other players and coaches, nor wanted to win so badly. Zero turnovers on the tournament.
Favorite ultimate player(s) in my formative years:
Josh Ziperstein
AJ Tiarsmith
John Hammond
Jason Simpson
Dylan Tunnel
Michael Baccarini
Jay Hammond
Favorite movie as a kid:
Super Troopers
Pre-game ritual:
Listen to Rejoice by Steve Angelo featuring TD Jakes
What I like to eat Saturday night of a tournament:
Everything + chocolate milk
If I didn't play Ultimate, my main pastime outside of work would be:
Living in a new country try and trying new lifestyles every three years
Favorite sports team outside of Ultimate:
LA Lakers now that Rondo and Bron are in town
Something unknown about me:
Extremely passionate about LinkedIn networking and streamlining efforts to break down silos for best product implementation please advise