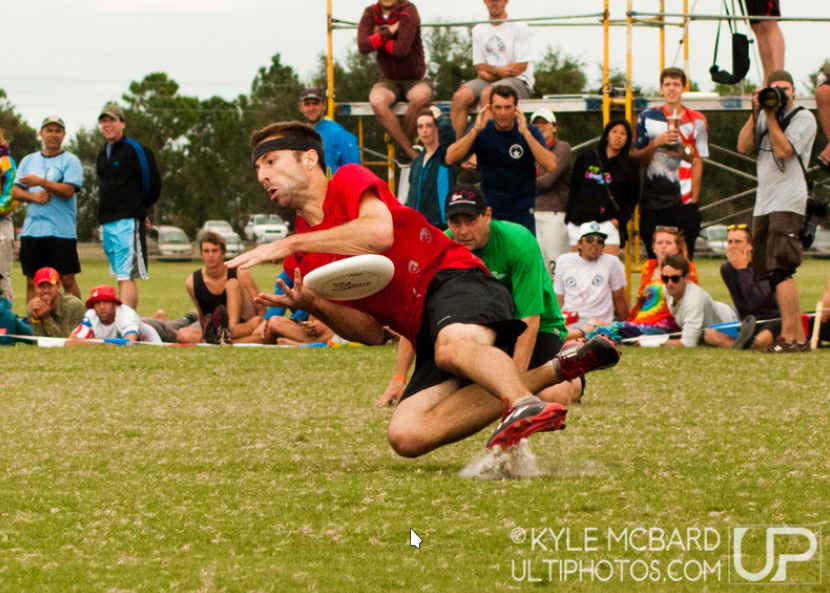 ---
Biography
---
Number: 28
Age: 36
Date of birth: 09/16/1981
Place of birth: Albany, OR
Height: 6'4″
College team(s): Colorado Mamabird
Current city of residence: San Francisco, CA
Occupation: Software Engineer
---
Ultimate
---
Previous club team(s): Johnny Bravo '05-'06
Accolades:
Peter Farricker Spirit Award Winner, 2012
How I came to join Revolver:
I moved to the Bay Area for a job after finishing grad school in the summer of 2008. I had been impressed by the team's spirited play by a young squad at Nationals in 2006, so when Mike Payne reached out to me I was receptive.
Just before the season I lost 15 lbs hiking the John Muir trail so it took some time for my speed and strength to get back to full form, but the team was patient.
Favorite game or tournament moment on Revolver:
Beating Beau and (my old team) Bravo in power pools in 2008 Nationals by coming back from being down 11-14. I caught the winning goal on double-game to seal it 16-15.
After the game, Beau sheepishly came to our sidelines to scheme on some post-game pizza bought for us by Jim Schoettler's dad. I told him to get lost and that "the pizza is for winners only". Pure joy.
Favorite game or tournament moment outside Revolver:
I was invited to play on the USA All Stars in the Dream Cup in Japan in 2013. There I met current Revolver captain George Stubbs for the first time, so I'm pumped to be working with him again this season. We lost in the finals to the Buzz Bullets, but I did get a D on Matsuno, which are hard to come by.
Favorite ultimate player(s) in my formative years:
Mike Grant because he had it all: throws, deep cuts, in cuts, pulls, defense. He was the best player on the best team for a long time and played comfortably in big games because he had been there so many times.
Favorite movie as a kid:
Robin Hood, Prince of Thieves
Pre-game ritual:
Drinking coffee (seriously, don't mess with me before that)
What I like to eat Saturday night of a tournament:
Pasta
If I didn't play Ultimate, my main pastime outside of work would be:
Coaching ultimate?
Favorite sports team outside of Ultimate:
Waaaaaaaaarrrrrrriorssssssss
Something unknown about me:
I'm an introvert and can never get enough time alone (but I like socializing as well).