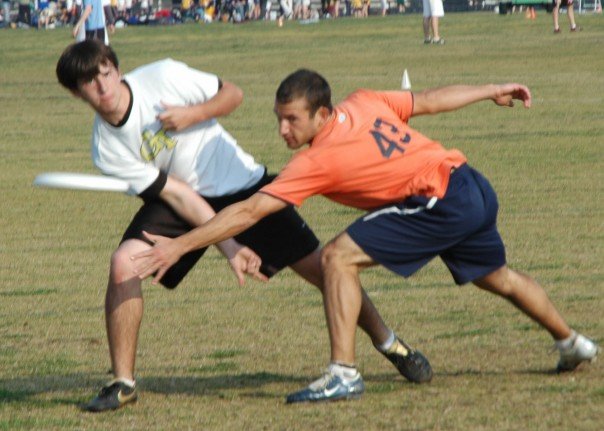 ---
Biography
---
Number: 15
Age: 31
Date of birth: 6/20/1987
Place of birth: Marietta, GA
Height: 5′ 9.5″
College team(s): Georgia Tech
Current city of residence: Oakland, CA
Occupation: UX Designer
---
Ultimate
---
Previous club team(s):
Chain Lightning and El Diablo
Accolades:
I've gotten a lot of kill streaks in Halo 2
How I came to join Revolver:
I was looking to make a move out of Atlanta after grad school, and a job opportunity popped up in the Bay Area that I couldn't turn down. I wound up on the team after a few months of convincing people in California that I knew how to play frisbee.
Favorite game or tournament moment on Revolver:
Playing against former 2015 Chain teammate and good friend Jay Clark in the 2016 finals. It had been a long year full of change for both of us and it was really cool to be going toe-to-toe on a stage that we had both been working hard to get to for years.
Favorite game or tournament moment outside Revolver:
In 2008 El Diablo made Nationals as the 16th seed. We lost every game and finished last, but cleating up for the first time at the polo fields in Sarasota was an unforgettable moment.
Favorite ultimate player(s) in my formative years:
AJ Tiarsmith, Greg Swanson, Rob White, Mark Poole, Katherine Wooten, Josh Markette, Russell Snow, Stephen Salley, Mike Nash, Josh Zipperstein
Favorite movie as a kid:
This is my favorite question…Goonies, Sandlot, Indiana Jones (but not Temple of Doom…too scary), Star Wars, 3 ninjas.
Pre-game ritual:
Coffee and sunscreen
What I like to eat Saturday night of a tournament:
I like to go to Pizolis, but eat a Chipotle burrito on the way. The service is so slow that by the time you get your food you are ready for second dinner. It's perfect.
If I didn't play Ultimate, my main pastime outside of work would be:
Breakfast and board games.
Favorite sports team outside of Ultimate:
Atlanta Braves, Alabama Crimson Tide
Something unknown about me:
I don't have any secrets.