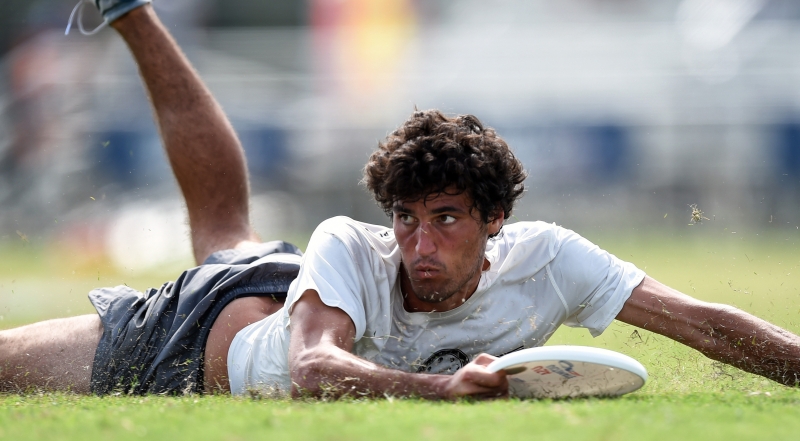 ---
Biography
---
Number: 28 [Editor's note: could be 26 this year. He keeps changing his mind]
Age: 26
Date of birth: 3/11/1992
Place of birth: Bures-sur-Yvette, France
Height: 6'5″
College team(s): Davis Dogs
Current city of residence: Berkeley, CA
Occupation: I work on electric crop-spraying airplanes
---
Ultimate
---
Previous club team(s):
Boost Mobile
Accolades:
USAU Men's Club Division Best Hair (runner up) 2014
How I came to join Revolver:
I knew about Revolver for a while, but thought I'd probably never make it. Ashlin convinced me to try out in 2013, the year 8 returners retired, and I've been playing with Revolver ever since.
Favorite game or tournament moment on Revolver:
2016 Nationals finals against Ironside. We lost on double game point, but it was the best game Revolver has been in during my 6 years. It was fast-paced, with exciting plays, and only around 4 turnovers per team. The last point was the only one with more than 1 turnover.
Favorite game or tournament moment outside Revolver:
Beating Wisconsin in pre-quarters of 2013 Nationals in Wisconsin with Davis. The sidelines were packed with Wisconsin fans, and we played the best game we could have possibly hoped for.
Also Kaimana.
Favorite ultimate player(s) in my formative years:
I didn't really have any, never watched much frisbee. Kevin Cissna was a very formative coach, but I basically never saw him play. I remember liking the way CUT played when I watched them at Stanford Invite.
Favorite movie as a kid:
Can't remember, maybe Silence of the Lambs? I couldn't sleep for days after it.
Pre-game ritual:
Laughter yoga
What I like to eat Saturday night of a tournament:
Sushi and a glass of white wine
If I didn't play Ultimate, my main pastime outside of work would be:
It would probably change every 6 months or so. Frisbee is the only activity I've continued for more than 2 years or so.
Favorite sports team outside of Ultimate:
Roger Federer
Something unknown about me:
I've never tried Pepsi