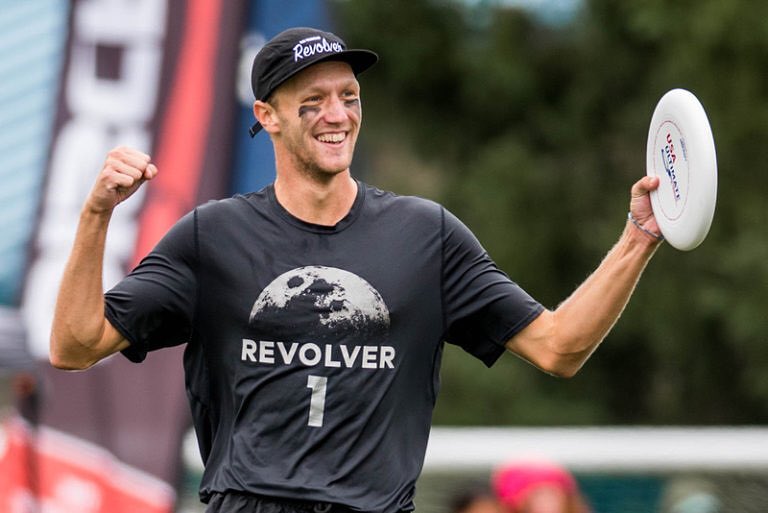 ---
Biography
---
Number: 1
Age: 25
Date of birth: 10/13/1992
Place of birth: San Francisco, CA
Height: 6'4″
College team(s): Las Positas College
Current city of residence: Alameda, CA
Occupation: Office manager
---
Ultimate
---
Previous club team(s): Polar Bears, SF Treats
Accolades:
'06, '07, '08, '09, '10 CA State High School Champ (Alameda Dark Meat)
'10, '11 YCC Champion (Bay Area Happy Cows)
'13, '15 U23 World Champion
'14 WUCC World Champion (Revolver)
'16 WUGC World Champion
'17 WBCU World Champion
'15, '17 USAU Club Champion
How I came to join Revolver:
Ashlin convinced me to tryout in 2014. Eli was trying out to and I thought it'd be the coolest to get to play with him again.
Favorite game or tournament moment on Revolver:
Hard to top catching the game winning goal in the 2014 WUCC finals against Sockeye. It was only my 2nd tournament with Revolver and it was a game where there was only 1 break and every possesion was precious. I caught a deep shot and ran weenie with Robbie and he found me in the back of the endzone for the game winner. I was immediately mobbed and never even got to stand up after "laying out" for the goal.
Favorite game or tournament moment outside Revolver:
2013 U23's. Best experience of my life. So many amazing people and ultimate players in one place sharing an entirely new experience together.
Favorite ultimate player(s) in my formative years: Mac Taylor
Favorite movie as a kid:
As a kid? Muppet Treasure Island
Pre-game ritual:
Asking Greg for eye-black
What I like to eat Saturday night of a tournament:
Burritos.
If I didn't play Ultimate, my main pastime outside of work would be:
Dirtbiking with my Dad
Favorite sports team outside of Ultimate:
Pittsburgh Steelers
Something unknown about me:
I can move my eyes independently of each other like a lizard