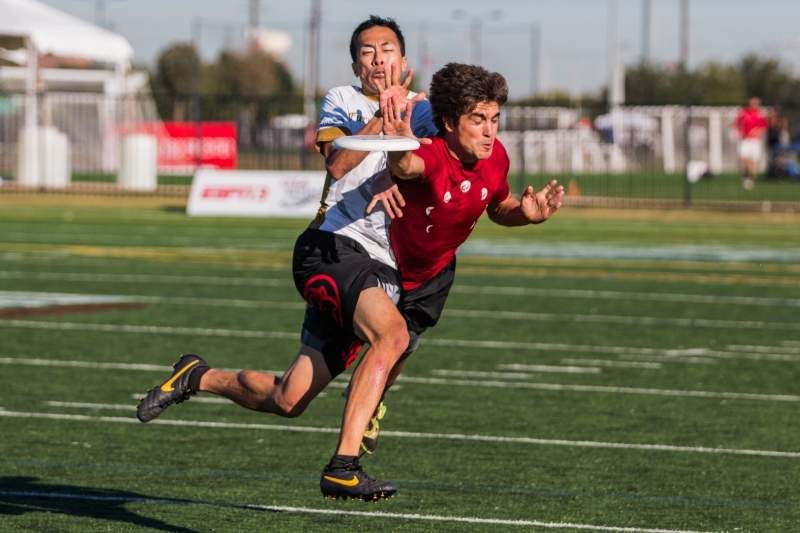 The new Nationals format gets the elimination started early with bracket play (pre-quarters & quarters) on Friday.  Our first matchup was Vancouver Furious George (incidentally our 2013 prequarters opponents as well), and there was a light wind as we warmed up on the turf stadium field.  We started off the game well: our offense looked very crisp and composed, and our defense generated several breaks, including one off a big layout under block by Russell Wynne on Brendan Wong (shown here).  We took half 8-4 on a hanging huck that floated over a pack of players from both teams for an easy clap catch break.  The second half had several more notable plays:
Simon Higgins getting up (and over Ashlin Joye) to get the disc back on offense and immediately hucking it to Chris Kosednar
Pat Baylis throwing a 60 yard backhand to an unmarked Ryo Kawaoka off a fast break
Lucas Dallmann catching a callahan poaching on the dump
Final score: 15-9
After relaxing during the bye (and watching the end of the other first round games, which featured several tight matches and lots of surprises), our final game of the day was in quarters against GOAT.  After trading the first two points, we struck first with two breaks, including one off a greatest from Cassidy Rasmussen to Zach Travis.  We failed to build off this early momentum, though, and gave it right back to GOAT in the form of three straight breaks of their own.  Credit goes to GOAT for some incredible defense here, especially by Remy Ojo – our offense took some good deep looks and their defenders made big plays to stop them.  After this early flurry of activity, both teams started to settle on offense – theirs ending up primarily in the hands of Mark Lloyd who also had a terrific game and who was especially potent going deep in this first half.
At 7-7, we put out a "universe" line to try and get the break back going into half, and they nearly had it – after a turnover, Cassidy Rasmussen threw an IO flick goal to Joel Schlachet, only to have it called back as a contested stall, and an unfortunate drop a few throws later gave GOAT the chance to convert their offensive point for the lead at half.  In the second half the game was just as tight. Some defensive changes – notably Beau Kittredge on Mark Lloyd – started to swing things in our favor, and our defense came up with the requisite two breaks to take the late lead, 11-10.  In these tight late game situations, we have a lot of trust in our offense, but unfortunately this time it didn't fall our way – an IO flick from Ashlin Joye to Beau Kittredge popped up and out of bounds, and GOAT broke soon after to go up 12-11.  Despite our strongest efforts on double game point at 12-12, the Canadians worked it down the field, finally hitting a short scoober for the goal that ended our 2014 season.